Picture credited to IT News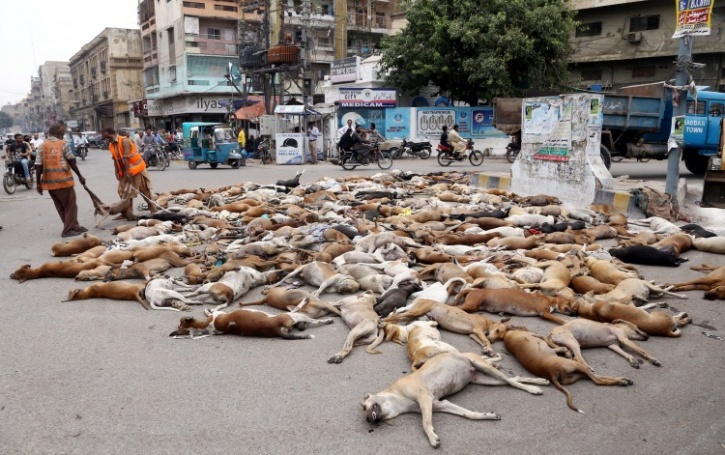 The is not control this is cruel acts of inhumane killing
We live in sad times when a government believes killing life in masses is a form of control of life. I am grateful I am not a citizen of Pakistan. This cruel act is another sign Pakistan's culture as a whole doe snot value life to allow such horror to occur. Sammaa TV reports the Pakistan government issued a order to poison all the strays in the local area.
According to Sammaa TV, Karachi officials placed poison in chicken and killed hundreds of stray dogs this morning. They said they are trying to protect the residents and control the stray population.
I agree with the animal rights activist, this act of cruelty is unjust and inhumane. There was no just cause. This is another reason we must tighten our boarders and become picky to whom we allow access to the loving USA.
There is other methods to protect the residents and help the dog population, such as education, spay and neuter.
I am shocked to see people walk and drive by as if this is a normal day. This view of the people reveal a heartless dark aspect of humanity that is need of enlightenment, as well as a pure respect and love for all life, even the lonely stray dogs and puppies..
Everyday there is more heartbreak from Pakistan. The people and officials are heartless. Clear and obvious Pakistan as a whole does not value, respect, and love life in general. The death and treatment of the hundreds of dogs is proof of the deep darkness that rots Pakistan humanity.
Caring is sharing. Please share Bully Love and Devotion to spread awareness and education, while helping a dog or puppy in need of a home. Leave a comment. Tell me what is on your mind. Do you believe in genocide of a whole species of life?